where_to_vote
Where to plant
Full sun, well drained, fertile soil.
amp_stories
Space between seeds / seedlings
30cm
select_all
Size of pot needed (width / depth)
100cm2
forward
Seedling Sow Depth
15-20cm
eco
Best practice
Directly sown
How to Grow
From seed
Dig holes 10-15cm deep, and plant seeds (small potatoes) with 'eyes' or 'sprouts' (these are potatoes that have either small dots with sprouts growing, or stems growing from the 'eyes).

Backfill holes with soil and water in well.
In a pot
Potatoes can be grown in a large pot or even a bucket or bathtub.

Punch or drill a few holes in the bottom for drainage.

Follow similar steps as in the garden.

i.e Half fill the container with potting mix, and place the seed potatoes on top 10-15 cm apart.

Cover with soil.

When shoots begin to show, cover leaves completely with more potting mix.

This prevents the potatoes from turning green.

Follow seed-> seedling -> harvest guide.
Ready to harvest
Harvest once the plants have flowered and died down.

You can also take small potatoes before then by hand digging beneath the plant and carefully extracting.
Collect seed
Leave potatoes long enough so that their when tubers create shoots, when this happens, cut the potato up so that each section has one tuber, and divide them up for planting.
When to Grow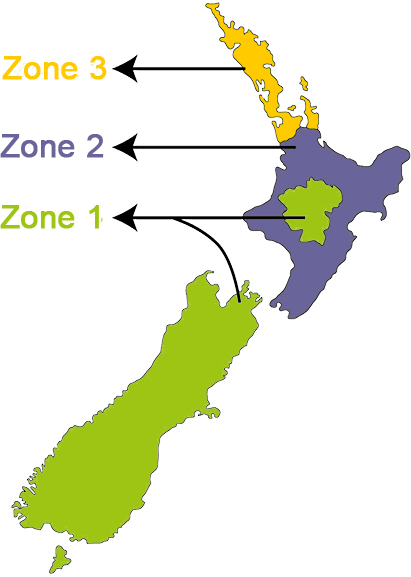 grass
Zone 1 - Cool
August , September , October , November , December
grass
Zone 2 - Temperate
January , February , July , August , September , October , November
grass
Zone 3 - Subtropical
January , February , March , April , May , June , July , August , September , October , November
Tips for Care
Grow potatoes in a coffee sack so that all you need to do is rip open the bag to retrieve them when ready.

If in the ground, you don't need to harvest the potatoes all at once.

Harvest as you need, and leave the remainder in the soil until needed.
Before planting, leave seed potatoes in a well-lit spot (out of direct sunlight) for a few weeks so that they develop small shoots.

This is a process called "chitting".

Egg cartons are a great place to 'chit' your seed potatoes.
Rotate the position you have planted the potatoes each year to prevent a build-up of soil-born disease.
Don't eat any green potatoes! They're poisonous.