where_to_vote
Where to plant
Full sun. Well drained soil.
amp_stories
Space between seeds / seedlings
7-10cm
select_all
Size of pot needed (width / depth)
50cm2
eco
Best practice
Directly sown
How to Grow
From seed
Parsnips love soft soil so dig around where you intend to plant.

Dig a shallow grove and plant seeds 6mm deep.

Cover, firm gently with your hard over the seed, and water well.

Sow new parsnip seeds as old seeds have a poor germination rate.

Thin seedlings after 4-5 weeks.
From seedling
Leave 7-10cm between plants, firm down, water in well.
In a pot
Due to parsnips' size, growing them in a pot is not recommended.

You will need a pot at least 60cm wide and deep.

Follow seed -> seedlings growing guide.
Ready to harvest
Begin pulling roots early.

Leave some in the ground to spread your harvest window.
Collect seed
To get viable seeds, you'll need to let at least six parsnips flower.

20 or more plants are better to ensure genetic diversity and make sure your parsnips don't get inbred.

It's a good idea to leave a few extras in case some don't make it through the winter.

Parsnips are pollinated by insects.

When those big yellow flowers appear, they can cross with other varieties of parsnip that are in flower as far as one mile away.

The flowers will go to seed.

The seeds are ready to harvest when they are mostly brown and dry.

They can be harvested easily by hand, holding a bucket or bag underneath the seed clusters to catch them as you pull them off the plant with your fingers.

Alternately, the whole plants can be cut or pulled when the seeds are mostly dry and brought under cover to finish drying out.

Put the plants upside down in a bag or box to catch the seeds as they fall.

Parsnip seeds will last 2-4 years in a cool, dry place.
When to Grow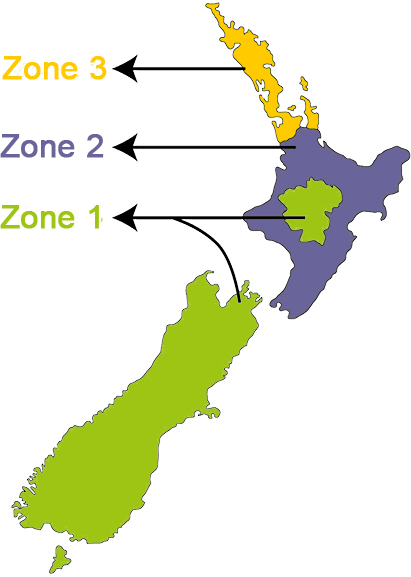 grass
Zone 1 - Cool
January , February , September , October , November , December
grass
Zone 2 - Temperate
January , February , March , July , August , September , October , November , December
grass
Zone 3 - Subtropical
February , March , April , May , June , July , August , September , October
Tips for Care
It's best to sow fresh parsnip seeds, as old seeds can have a poor germination rate.
Harvest Parsnips early to allow more room for the rest of your crop to grow.
Weed carefully around parsnips to avoid damaging the crown of the plant.
Parsnips keep well in the soil, so harvest can continue over long periods Any spare space between rows can be used to grow small lettuces, microgreens, or other compact veggies.
Parsnips can take 4-5 months to reach maturity, so it's important that plants are well settled in before the cold weather arrives.

However, once the plants are established, frost is said to sweeten the flavour of the roots!