where_to_vote
Where to plant
Kowhai is an important food source for nectar feeding birds and is usually found along stream, lake and river margins and around the coast. There are eight species of kowhai and the common Sophora microphylla is quite variable around the country. Plant the kowhai against a sheltered, south-facing wall in a well-draining, sunny location to prevent frost and wind damage to the young tree. Consider planting the kowhai in a raised bed if your soil is a heavy clay; kowhai prefer a neutral pH loam or sandy soil.
How to Grow
How to grow video guide
From seed
Propagation: The hard shell makes the seeds very durable but they are also slow to germinate.

The process can be speeded up by piercing the seed with a needle or soaking in water until they swell up.

Sow on a firm bed of seed raising mix and cover lightly.

Treated seed may germinate within seven to fourteen days.
From seedling
Transplant seedlings into larger pots when they reach 15cm or more.

Plants will grow reasonably fast over Summer months so make sure you give them plenty of water, regularly.

You can also feed them with seaweed tonic regularly or plant with some manure at the bottom of the pot to ensure they have plenty of nutrients.
Collect seed
It is important to collect seed from trees known to be naturally occurring and not planted or descended from planted specimens.

The pea-like pods remain on the tree most of the year.

Remove the yellow seeds from the pod.
When to Grow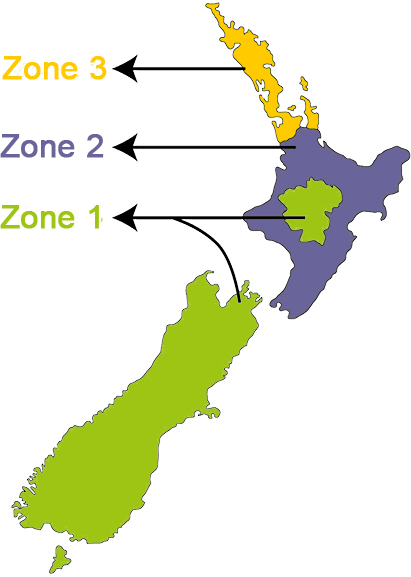 grass
Zone 1 - Cool
January , February , March , April , May , June , July , August , September , October , November , December
grass
Zone 2 - Temperate
January , February , March , April , May , June , July , August , September , October , November , December
grass
Zone 3 - Subtropical
January , February , March , April , May , June , July , August , September , October , November , December