where_to_vote
Where to plant
Full Sun/Part Shade/Shade.
amp_stories
Space between seeds / seedlings
30cm
select_all
Size of pot needed (width / depth)
30-60cm2
How to Grow
From seed
Basil seeds should be sown indoors 6–8 weeks before planting outside.

Sow seeds in a sterile seed starting mix in seed trays or pots 0.2–1.0 cm (0.08–0.4 in) deep and water gently.

Ensure the temperature remains between 15.5 and 27°C (60–80°F).

Seeds should germinate in about 5 days at 21°C (70°F).
From seedling
Basil seedlings can be transplanted to the garden when they are between 6 and 8 weeks old, about 2 weeks after the last frost date.

Plants should be spaced approximately 30 cm (12 in) apart, allowing 45 cm (18 in) between rows.

Pinching back the growing tip of the plants after transplanting will encourage the growth of new shoots
In a pot
Plant basils 15-20cm apart in a large pot, or in individual small containers.

Basil is prone to fungus, so keeping airflow between plants is important.

Make sure your pot has plenty of drainage and that you use high-quality potting soil.

Basil doesn't like to be too wet, so you want to keep your soil moist, not soggy
Ready to harvest
Begin using the leaves as soon as the plant is large enough to spare some.

When the basil is still growing, take leaves from lower down the plant and remember only take 1/3 of the plant.

When the basil is fully grown, collect from the tops of the branches, cutting off several inches.

Handle basil delicately so as not to bruise and blacken the leaves.
Collect seed
Use a fine colander for basil seed collecting, as the black seeds are very tiny.

Cut off the brown and spent flower heads and let them dry for a few days in a warm, dry location.

Crush the heads over the colander and pick out the old petals and any chaff
When to Grow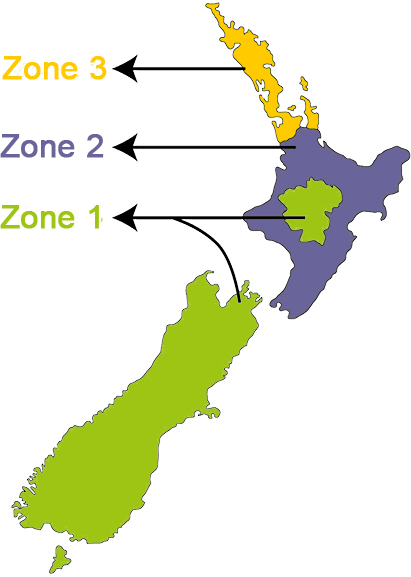 grass
Zone 1 - Cool
January , October , November , December
grass
Zone 2 - Temperate
January , September , October , November , December
grass
Zone 3 - Subtropical
January , February , August , September , October , November , December
Tips for Care
Pinch out the tips of plants to encourage a bushy plant and remove any flowers that start to form
Harvest leaves regularly to encourage more foliage
For maximum flavour, pick basil leaves in the morning after the dew dried, but before dew dries up